Alright, Pentax UK is the first to release some sample pictures from the K10D camera... They're JPEGs at full resolution (3872 x 2592). No word on what lenses were used, but they have 9 images so far, so go take a peek! I'm gong to assume that all these images were either taken as JPEG with automated camera settings, or were processed in Pentax Photo Lab 3 with automatic settings, so as not falsify any claims to quality.


Copyright Pentax UK, 2006. Click for original image.

Now let's take a closer look at the image above. I opened it up in Photoshop for an informal evaluation and there were a few things I could tell about the image right away. First, by taking a look at the histogram in Levels and Curves, the white balance and exposure seem to be spot on to my taste for this image. For example, if you set the blackest point to be the pupil of her eye and the whitest to be the little white area on the top left of her shoulder, you'll end up with a histogram that doesn't change much at all, which is to say that the in-camera or PPL 3 processing of the photographer's exposure was pretty close to flawless.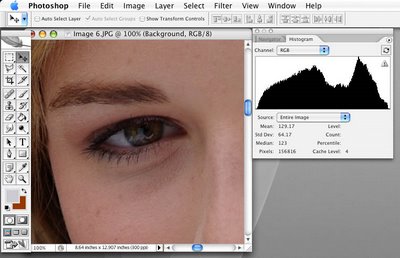 Next, similarly using Curves or Levels to gauge the white balance, my adjusting the color tone warmer or cooler revealed to me that the Pentax white balance calculation value was pretty spot on for white and skin tones in natural daylight. Not too cold or warm, and no noticeable color cast.

Finally, the image sharpness seems like it could be pinched up just a bit - I dare say the image looks the slightest bit soft at 100% pixel view, but I can't fault the camera. It's likely RAW development can push the image much sharper. But if this is a sample JPEG right from the camera, or using default Pentax Photo Lab settings, there's a logic to keeping the image a tad soft. That would be the solution to the problem that if you're not careful the sharpening artifacts with details like fine hair can ruin an image. For an example, using Unsharp Mask at a low radius (like 0.5 pixels) at an amount of about 150% (even with a threshold as high as 8), you'll start to see some jaggies in the hair strands. In my opinion, the optimum sharpness was already achieved for this image, and making it any sharper whilst a JPEG (not using a RAW image) is going to bring out detail at a cost of quality.


Note the jaggies the least bit more sharpening will bring out.

So, I'm thinking that the sample images were probably cherry picked to be exceptional exposures, but they really show off the camera's capacity for generating pictures that you'd hardly need to post-process unless it served more artistic purposes. And though it would be nice to see more action shots, I'm impressed.

Link: Pentax UK K10D